Reference centres for the management of rare diseases have been nominated by the Ministry of Health in university hospitals to improve patient management of those affected by rare diseases.

We work on the diagnosis and the treatment of fibrous dysplasia of bone and McCune-Albright syndrome. In addition, we carry out clinical research activity into this disease.
The centre allows the different specialists required to collaborate in the management of the disease (rheumatologists, paediatricians, endocrinologists, and adult and paediatric orthopaedic surgeons). In particular, a multidisciplinary consultation takes place, for children and adolescents, in the Femme-Mère-Enfant (Women-Mother-Child) Hospital, bringing together a rheumatologist, a paediatric endocrinologist and orthopaedic specialists.
The aim of this site is to improve information for patients who may have difficulty finding objective information on their disease or that of a close family member.
A section of this site is also dedicated to doctors who are not specialists in this disease, giving them more detailed characteristics data, as well as disease management recommendations.
Our contact information: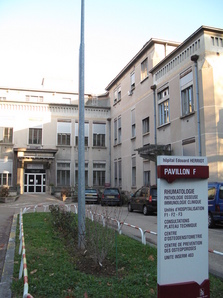 NATIONAL REFERENCE CENTRE FOR FIBROUS DYSPLASIA
Secretariat: 00 33 (0)4 72 11 97 02

Coordinator: Pr Roland CHAPURLAT, Department Head,
Rheumatology and Bone Pathology
Director, INSERM Unit 831
Deputy: Pr Marc NICOLINO
EDOUARD HERRIOT HOSPITAL
Pavillon F
Rheumatology & Bone Pathology Department
Clinical Immunology Bone Cancer
5 place Arsonval 69437 LYON CEDEX 03
---
LEGAL INFORMATION
Publication Director: Pr Roland CHAPURLAT
Editor: Pr Marc NICOLINO
Webmaster: Cédric TROLLIET, PhD (Lyon, Engineering Projects)
Finance
Ministry of Health, rare disease plan
Web hosting
Ezus Lyon

Photos
Pr Roland CHAPURLAT, European Science Foundation
Created: 09 june 2010