FIBROUS DYSPLASIA AND MCCUNE-ALBRIGHT SYNDROME
NATIONAL REFERENCE CENTRE
WHAT IS FIBROUS DYSPLASIA?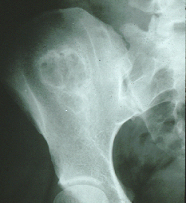 Fibrous dysplasia is a rare bone disease that can affect one or many bones of the body. The severity of the condition can vary from person to person: some people have no symptoms at all, while others may have a significant physical impairment, with the full spectrum in between being possible.
This condition is caused by a gene abnormality that affects the bone forming cells.
A small number of sufferers have endocrine abnormalities and marks on their skin associated with the bone disease known as McCune-Albright syndrome.
---
All information given via the contact form will only be sent to Professor Roland CHAPURLAT and is covered by medical confidentiality. The information made available on this site is intended to support and not replace that given by a doctor to their patient. This site does not accept or receive funding from advertising.
---
CONFIDENTIALITY
Personal information concerning visitors to this site, including identity, is confidential.
The manager of this site will uphold and respect the legal confidentiality requirements.
Created: 09 june 2010
This site complies with the HONcode standard for trustworthy health information:
verify here.